Option Services Inc. Cleaning Janitorial MA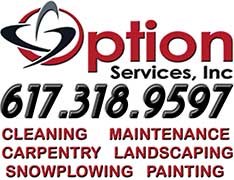 Short Description
Option Services Inc. Cleaning serves restaurants in Central and Eastern Massachusetts with quality cleaning and janitorial services. Call 617-318-9597 Option Services Inc. works around your unique restaurant hours to make us the easiest part of your work work. If you need your restaurant cleaned, please call us. Option Services Inc. (Cleaning Services Company MA )is [...]
Visit Website
Share
Full Description
Option Services Inc. Cleaning serves restaurants in Central and Eastern Massachusetts with quality cleaning and janitorial services. Call 617-318-9597
Option Services Inc. works around your unique restaurant hours to make us the easiest part of your work work. If you need your restaurant cleaned, please call us.
Option
Services Inc. (Cleaning Services Company MA )is your premiere cleaning business capable of handling the toughest jobs. Founded on integrity and dependability,
Option Services Inc. has proven time and again that our clients play the most integral role in our business model; and strive to reach the top in customer satisfaction in commercial, residential, industrial, office, manufacturing, controlled environment, phamaceutical, restaurant, school, and institutional cleaning in Massachusetts. FREE CLEANING QUOTE.
100% satisfaction guarantee. Located in Central Massachusetts,
Option Services Inc. is in a prime area to service any part of the state, whether it"s Worcester County MA, Middlesex County MA, Essex County MA, Suffolk County MA, or Norfolk County MA. Our various cleaning crews are strategically located in different areas of the state so that we can often respond to your needs within a 30 minute time window. There is no job too big or small.
Option Services Inc. ' emphasis on quality will prove a positive experience. With experience in both commercial and residential settings,
Option Services Inc. – Cleaning demonstrates range in the collaborative techniques offered in both fields to provide quality results. Beginning with our specialty in pharmaceutical settings and controlled environments, we've been able to expand our work throughout various industrial settings Our competitive rates and knowledge of those industries allow us to be more available to our clients and demonstrate an understanding for their needs. Call us today for your free quote.
617-318-9597
Consistent and Generous. Option Services Inc.. Our coverage area includes most of the towns and cities in Central and Eastern Massachusetts. We cover the following city and town areas and below is our approximate coverage area. Cleaning Janitorial Boston Massachusetts Cleaning Janitorial Brookline Massachusetts Cleaning Janitorial Cambridge Massachusetts Cleaning Janitorial Concord Massachusetts Cleaning Janitorial Dedham Massachusetts Cleaning Janitorial Fitchburg Leominster Massachusetts Cleaning Janitorial Gardner Massachusetts Cleaning Janitorial Lawrence Massachusetts Cleaning Janitorial Lowell Massachusetts Cleaning Janitorial Salem Massachusetts Cleaning Janitorial Worcester Massachusetts
Please contact us for a free quote.
Option Services Inc. Coverage area:
Towns in Worcester County MA Massachusetts:
Ashburnham, Athol, Auburn, Barre, Berlin, Blackstone, Bolton, Boylston, Brookfield, Charlton, Clinton, Douglas, Dudley, Gardner, Grafton, Hardwick, Harvard, Holden, Hopedale, Hubbardston, Lancaster, Leicester, Leominster, Lunenburg, Mendon, Milford, Millbury, New Braintree, Northborough, Northbridge, North Brookfield, Oakham, Oxford, Paxton, Petersham, Phillipston, Princeton, Royalston, Rutland, Shrewsbury, Southborough, Southbridge, Spencer, Sterling, Sturbridge, Spencer, Sterling, Sturbridge, Sutton, Templeton, Upton, Uxbridge, Warren, Webster, Westborough, West Boylston, West Brookfield, Westminster, and Winchendon.
Towns in Middlesex County MA Massachusetts and elsewhere:
Acton, Arlington, Ashby, Ashland, Ayer, Bedford, Belmont, Billerica, Boston, Boxborough, Brookline, Burlington, Cambridge, Carlisle, Chelmsford, Concord, Dedham, Dracut, Dunstable, Everett, Framingham, Groton, Holliston, Hopkinton, Hudson, Lawrence, Lexington, Lincoln, Lowell, Littleton, Marlborough, Maynard, Medford, Melrose, Natick, North Reading, Pepperell, Reading, Salem, Sherborn, Shirley, Stoneham, Stowe (Stow), Sudbury, Tewksbury, Townsend, Tyngsborough, Wakefield, Watertown, Wayland, Westford, Weston, Wilmington, and Winchendon
Photo Gallery